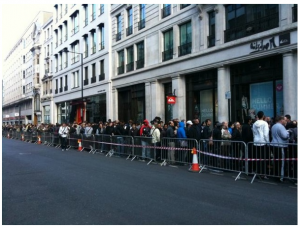 Apple's iPad made it UK store debut this morning on Regent Street, London at 7am and it was a spectacular scene with  scores of  Apple fans  queuing all night, a  few celebrities  including Stephen Fry were spotted , and the media – more than 50 cameras at a rough count –   was out in full force. The line of fans stretched from the Apple store on Regent Street all the way round the corner onto Hanover Street.
The first in line and first to get his hands on the Device at  the store was 17-year-old Jake Lee, who happily rushed into the store as it opened.
The iPad in UK costs around  £429 for the basic 16GB WiFi  model is roughly 30% costlier than what it would cost in the US,even then it is perceived  to be good value for money by many. There were concerns about the stock availability, nobody knew what the stock situation was, so whispers were going around the crowd that stocks might well run out.