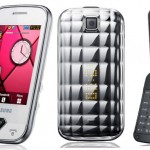 There's good news for all you 'Fashionistas' out there. Samsung has recently launched its trendy, stylish and very fashionable Diva S7070 phone in UK. As the name suggests, the Samsung Diva is a true fashion phone with 'mesmerizing' looks. The diamond shaped button on the front adds more charm to Diva's gorgeous looks.
Samsung realizes that there's massive untapped potential in selling fashionable phones to young women and Samsung Diva is a strong testimony to that belief. The phone is high on social networking with in-built Facebook and Myspace apps. It has a 3.2 MP camera with an interesting beauty mode filter.
The Samsung Diva even sports a 'fake call mode' to get you out of those boring meetings on pretext of attending important calls. Divas do that all the time? The Samsung Diva has a 2.8" touchscreen which works like a charm for all gestures, an in-built FM radio and offers 40 MB internal storage, which in my opinion is rather low.
If you've been waiting for a truly fashionable phone that makes a style statement, the Samsung Diva is perfect for you.
Related articles