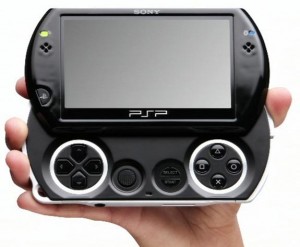 The Sony PSP Go is more sleek and slim and it is looking better than ever. However, looks are not everything so the guys at Sony had to come up with some very attractive features for this device. First of all, it has an internal storage capacity of 16 GB. You also get an expansion slot for additional memory, if you want any. It has very good integration with Playstation 3 and you can play many downloaded games without carrying al thoseugly UMDs around the place. The Sony PSP Go also has Bluetooth connectivity, a feature you will find most pleasing. It now allows you to pause and resume game states.
As for the cons, there are a few. First of all, it is a little pricey. For this price we would expect a touch screen and a second analog stick. The stick is placed awkward and the screen is a little small. It will start to look crowded pretty soon. The volume and display controls are also odd placed. If you want to expand the memory, you need to buy the expensive Memory Stick M2 format. One of the most annoying things is that the battery is not user-replaceable.
All in all, the Sony PSP Go is good, but not exactly what you would expect. Although it has some very nice features, it also lacks some other elements. We would give it 4 out of 5 stars. You can get one at a very good price from Amazon, here.