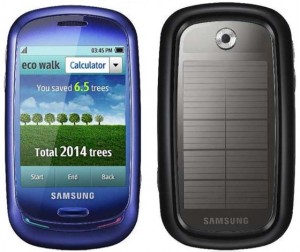 Lately, Samsung is designing eco friendly cell phones that inspire vigor. Featuring a stylish shell made entirely from recycled materials, plastic bottles especially, and solar panels on its rear face, you get the feeling that this is truly a green phone. Further more, Samsung designed this product to be free from polyvinyl chloride, a toxic substance. This phone allows you to minimize battery consumption by adjusting different parts of the phone, such as the display. The display is very bright and vibrant, featuring 16 million colors and a resolution of 400×240 px. It can display photos and graphics very sharply. The screen also has three panels that allow you to customize your widgets. You will benefit from stereo Bluetooth, Wi-Fi, a nice little Google app for Gmail and Google Maps, and USB mass storage. The music player is also very good and the 3.2 megapixel camera really gets the job done.
As for the cons, there aren't too many. The most annoying one is the small size of the screen, just 3 inches. It really does feel crowded. The Samsung Blue Earth also lacks a full keyboard. The call quality, although good, is below our expectations. For what it offers, we feel that its price tag of 300 Euro is too high.
All in all, it is a good phone, a green phone, and, most of all, a phone with personality. I don't know if it deserves that price tag, but it sure is fun to have one! Return to this post soon to have the link to where you can buy this product at the best price.