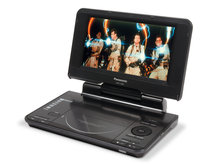 In this review, we are presenting a very nice portable DVD player from Panasonic: Panasonic DVD-LS84. Equipped with a 8in widescreen, it offers excellent image quality. Further more, the new Free Style Viewing allows you to choose how to watch your favorite movies. This DVD player is a table-style device. The screen can slide from the back support onto the base. However, you can still use the flip-top style. It is very slim and compact, while remaining very comfortable and light. It also comes with all it needs to be used in your car, without a remote. It is very compatible, able to support a vast array of media encodings. The Panasonic DVD-LS84 has a battery life of 7 hours, quite enough for your trips.
There are some cons that must be mentioned. For instance, the 480 x 234 pixel screen. Color reproduction is also a little under what we would expect. This DVD player also does not support USB or SD cards.
All in all, it is a very good portable DVD player with a lot of qualities and acceptable deficiencies. We would give it 4 out of 5 stars. You can find this for sale here. The price is £185.18 Inc VAT.