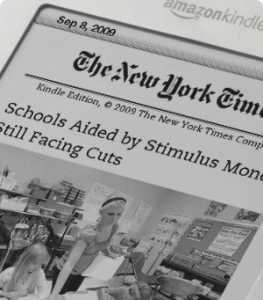 If you recall, the Kindle e-reader recently became the major hit in its category. Kindle is produced by Amazon and, as such, it was the most sold product this year in their store. However, Kindle sales are pretty much limited to the United States because the device does not support wireless connection to the Kindle Store from anywhere else.
From October 19, things are going to change! Amazon will start selling the brad new "Kindle with US and International Wireless" to people in more than 100 countries worldwide. As you might imagine, the Kindle Store works perfectly. You can already preorder the device for just $280. But how come Kindle will manage to work internationally? " The new device does not sync with Sprint, which was previously the exclusive supplier for Amazon's Whispernet technology. Instead, it works with AT&T's wireless network, which has the global reach that Amazon needs for its international plans," – Jeff Bezos, Amazon CEO.
So, it looks like AT&T is behind this uprising. And it looks like Sprint is going to be rejected for good. Who wants a Kindle that works only in the US? The new Kindle, although $20 more expensive, will be your travel guide anywhere you go. Well, almost anywhere!