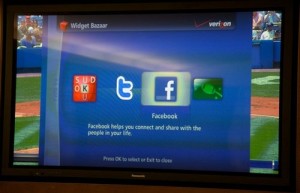 A couple of weeks ago, the largest 3G wireless operator in USA, Verizon, announced the launch of a new app store: the Widget Bazaar. This storefront is aimed at providing new widgets and applications for its Fios TV clients. Some of Verizon's partners will develop the apps for now. "From the beginning we said we wanted Fios to be a platform for innovation," – Shaygan Kheradpir, Verizon CIO.
It looks like Verizon will agree at some point to using applications developed by third-party developers. "We are not limiting innovation to any particular circle of developers. But we are taking things one step at a time. And we will start with applications from our partners, and then we'll move toward opening it up to third-party developers." Shaygan Kheradpir said.
There are already two applications created for the new Widget Bazaar, intended for Twitter and Facebook. The guys at Verizon were surprised by the huge number of users and are already updating the apps after users' feedback. It looks like our TV sets will become intelligent. However, not like computer-intelligent. "People don't necessarily want a full browser on their TV," he explained. "TV viewing is still very much a sitting back experience. And what people really want is a service that is relevant to the TV viewing experience and also provides a simple interface with one click access."
These are only the first two apps to come out. Imagine what comes next! We predict a LOT of fun watching TV from now on! "Awards shows like the Oscars can be really boring," Shaygan said. "But when I could watch it with the live Twitter feed, it was really funny. When Danny Boyle (director of the award winning movie "Slumdog Millionaire") took the stage, everyone started Tweeting, "Why is Rudy Guiliani up there?' I hadn't thought about it, but then I realized he does look a lot like Guiliani. It was really funny." If the CIO of Verizon can have fun with the first two gadgets, we can too!