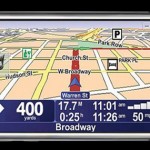 The highly anticipated turn-by-turn navigation application for iPhone, TomTom, is finally out. You can find it in the App Store at the hefty price of $100. This is not very cheap and some people might think of it as too expensive. Not to mention that there is another app that is carrying the same features for just $35. However, the new app truly deserves to be more expensive!
TomTom delivers 3D GPS navigation and has a voice system that gives spoken turn-by-turn directions. It also includes all of the latest maps from Tele Atlas. If you miss the turn, the app knows how to make a reroute in a second. By using this new and revolutionary navigation solution, you will expand your iPhone's capabilities, transforming it into a state of the art in-car navigation system.
You can also get the new TomTom car kit for your iPhone. It is specially developed to ensure your iPhone's security, clear voice instructions, in-car charging, enhanced GPS performance, and hands-free calling. We don't know the price yet, but rumors place it at about $90. The TomTom navigation software will make a great companion during those long nights when you drive alone on the highway.
You can get this amazing application from here for just $100.