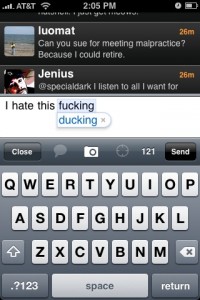 Nothing is perfect, not even the iPhone! Let's see the top 5 iPhone annoyances of iPhone and how to fix them.
Although iPhone is one of the greatest gadgets on the market today, it still has plenty of flaws. Technology is all about fixing things, so here are the best solutions for the top 5 iPhone annoyances.
5. Default Apps can't be hidden
As you already know, the iPhone ships with a lot of apps. You can also add your own applications to improve usability and performance. However, the annoyance is that you can't remove the shortcuts to these apps from your iPhone's interface. You are unable to hide, delete, or remove any iPhone prepackaged applications.
How to fix
The best way to fix this iPhone annoyance is to isolate undesired apps on the last home page. Although a dirty trick, it will fix one of the top 10 iPhone annoyances.
4. Creating contact list groups
Another annoyance of iPhone! The Contacts application will not allow you to separate contacts and place them into different groups. iPhone doesn't even allow you to create custom groups. I guess everyone wants to know how to fix this iPhone annoyance, right?
How to fix
Fixing the iPhone contact list groups annoyance is easier than expected. All you need to do is get an iPhone app to do the job. ABContacts is one of the best iPhone applications designed with this purpose in mind.
3. Battery drains too fast
Apple does not allow users to change their iPhone's batteries or buy a new, bigger one. This is definitely one of the top 3 iPhone annoyances. When the battery drains out, your Apple iPhone is completely useless! Of course, all the apps running simultaneously in the background really don't help.
How to fix
Turn off iPhone features and application whenever possible. Here is a list of what you can safely turn off on your Apple iPhone:
Turn down screen brightness
Auto-refresh of iPhone apps
2. File storage
Definitely the number 2 iPhone annoyance! Although this smartphone has a very generous hard drive, you are unable to store or even send files. If you want to download a Word document, you find out that it is impossible on the Apple iPhone. I bet you want to find out how to fix this annoyance!
How to fix
Use a file transfer and storage application. There are a lot of these apps on the Internet. Check out QuickOffice Files and Box.net.
1. AT&T as the carrier
In my opinion, this is the greatest iPhone annoyance by far! This carrier simply does not understand that tethering and MMS support is vital! In combination with a lot of other annoying terms and problems, this carrier must go. How do we fix this?
How to fix
Although I haven't tested it, you can go to BenM.at and, after following the instructions found at iPhoneHacks, you will be allowed tethering without jailbreaking the iPhone. If you want to get rid of AT&T once and for all, unlock your Apple iPhone and go with T-mobile. And let's not forget the UK way to get this all working as discussed in the previous sporkings post : iPhone Tethering on o2 UK, without paying £15-£30 p/m