You may have seen James Proud pitching at the Europas last Thursday. James Proud and Miles Noble area two man army! These guys are responsible for designing, implementing, coding and marketing the website and quite frankly, we think they've done a marvellous job.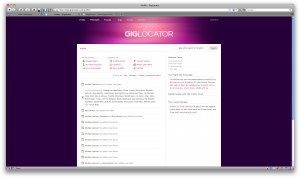 The idea is that the site pulls together a list of all the music you're into, and in return provides you with a list of gigs that might be of interest. The information is gathered from your Last.fm page and/or iTune library xml. A spider then crawls all this data and formulates a list of your favourite artists.
If you find a gig you're interested in and you don't have anyone to go with, GigLocator will suggest some like-minded people in your area. Of course you can add photos and videos of the events too. All this is pulled together using Firefox 3.5's geolocation, making GigLocator the perfect social gig/concert web app.
The site launches in under two hours – so get ready to register your name!
[Update] The site is now live, check it out over at GigLocator.com