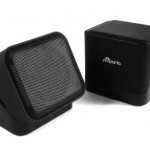 Oh Lord help us, I hope the kids on the bus don't find out about these speakers. These £25 speakers are a bargain.
The Proporta Twisted System – Portable Speakers consists of two independent speakers, each rated at 2.5 watts RMS, producing a stereo output of 5 watts RMS with a total peak power of 10 watts.
The right hand speaker is the Main Speaker. It contains the amplifier and can be identified by three ports on the back and the ON/OFF switch on its base. The left hand speaker is the Secondary Speaker, it is controlled and powered by the Main Speaker and has only one port on the back.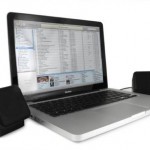 There are two ways to power your Twisted System – Portable Speakers either by 3 AAA type batteries(not supplied) or by USB.
The speakers are very good quality, we tested these on a motorway road trip in the car (we all know how noisy motorways are even with the windows up). We plugged it in to the Nexus One so that we could listen to TWiT. We had the volume set to about 65% and were surprised at the quality and loudness of the speakers. We then played some music, unfortunately the bass doesn't come through that great but it is good enough on a low volume. As you'd expect the louder you turn up the volume the more distorted it becomes, but we managed to get it to about 80% before that happened.
The Twisted System – Portable Speakers are very neat and compact. They won't replace your hifi speaces however they are definitely a must have especially with summer approaching, perfect to take to the park or beach for a picnic.