ustwo™, the infamous digital user experience (UX) design agency has released its latest iPhone app, which is set to revolutionise the process of app discovery and tracking.
With over 140,000 apps in the iTunes app store and 10,000 new apps submitted every week, it's a vast and growing world of apps to navigate. Frustrated by the limited information and navigation of the iTunes App Store, ustwo™ set about creating a powerful solution for consumers, developers, marketers and journalists alike.
PositionApp™ is the pocket gateway to the ups and down of global app chart success, giving the user the power to track any iPhone app at any time, anywhere throughout the world. It is the most in-depth and insightful app discovery and performance-tracking tool in the market today.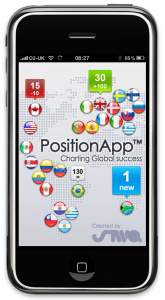 Through the intuitive and easy-to-use interface, users can discover, track, download and share their favourite apps directly on their iPhone or iPod Touch anytime and anywhere. PositionApp™ offers instant remote access to all chart positions of the top 300 apps, and their movements in all categories and countries. For the very first time, users can access the last six months of historic app store performance through the ustwo™ data set.
In app features:
• Up to date country-by-country position performance stats on the top 300 apps.
• 6 months of historic position data.
• Browse by: country, genre, position change, app name, free & paid, day, week or month.
• Track selected favourites on your personal dashboard.
• Highlighting the biggest climbers in the top 100 and the top 300.
• Easily find, purchase and share any top 300 app charting data.
mills, co-founder of ustwo™, comments, "Successful app development is as much about marketing and PR as it is about the concept and creation.  As app developers we wanted to understand our sales volume, gauge the penetration of our marketing strategies and easily follow the success of the app once it leaves the nest. We created PositionApp™ because as developers we wanted and more importantly needed this app. As well as giving you access to the top 300 positions of all charts in all countries, PositonApp's USP is its 6 months of retrospective app positioning data.
"PositionApp™ was created for developers, marketers, journalists and reviewers, but by adding a revolutionary set of app discovery dashboards highlighting the biggest app risers in the top 100 and top 300, the app will be appreciated by just about any app user."
PositionApp™ made waves during its development, quickly coming up on the radar of leading tech companies. This led to an unprecedented offer of funding to make the app available free for a period of two months from launch so that it would be as widely used as possible. Following this period PositionApp™ will become a paid for app.