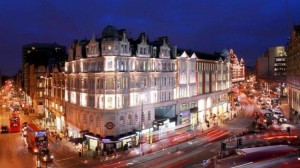 London, according to the World Bank, is the easiest place in the country to start a new business. It is undoubtedly an excellent location, and a London address can lend a certain prestige to a business. But a prime location such as London may come at a cost, so it is a good idea to conceive a well-thought out plan before taking the leap.
The basics
The first thing a business needs to do is work out how much they have to spend on premises. Certain parts of London, such as Knightsbridge and Mayfair, will have higher shop rents than other parts, such as Whitechapel or Spitalfields. Weigh the benefits of a prime location with the money available for rent. It may be worth spending more on a well-placed shop that has a higher footfall and will attract a lot of passing custom rather than have cheaper premises which are visible to only a few.
Certain industries congregate in particular areas in London. For example, if a business is money-related, it may pay to set up shop in or around the Square Mile, the financial heart of the capital. Or if a business is in or related to the media or creative work, then Soho may be a better choice. A new business may benefit highly from the reflected glory of other, longer-based establishments operating within the same industry sector and physical space. The government is very keen for London to continue to be a thriving working community and so offer incentives and deals to attract new businesses to the capital, so start-ups should try to become aware of these by regularly accessing the government's business website and the website of the Mayor of London.
New businesses may be spoilt for choice when it comes to hiring a workforce. The city swells daily with people looking for jobs, and with so many willing to commute from the suburbs, London offers a great many skillsets for a new business to take advantage of. There are many jobsites where positions can be posted, including the government-run Jobcentre Plus.
Of course, a new business may want to keep costs down by hiring only the staff they need on a regular basis, and leave jobs, such as administration or accountancy to a contractor. Umbrella Companies such as www.atlantic-umbrella.com can help with contractor management. This has the benefit of a business only needing to pay for services as and when required, and a contractor will take care of the self-employed PAYE and other financial considerations. A business could also consider having an outlet in London and a headquarters office and storage facility outside the capital where the rent would obviously be lower.
New start-up businesses in London should take advantage of the wide network of support that is available in the capital. These include the British Chamber of Commerce and Business Link, both of which provide advice and assistance on all aspects of business, from legal obligations to taxation.