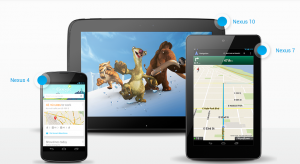 Google today  announce the much anticipated Nexus 4 smartphone and Nexus 10 tablet, as well as an increased storage space available on the Nexus 7 tablet while maintaining its pricing. Its Android Jelly Bean operating system also got an update.
The LG built Nexus 4 is the successor to Samsung's Galaxy Nexus. The Nexus 4 features a 4.7-inch display, up from 4.65-inches, and where the Galaxy Nexus has a 1280 x 720 display, the Nexus 4 boasts 1280 × 768 resolution with a density of about 320 pixels per inch. The new handset gets Qualcomm's Snapdragon S4 quad-core CPU, 2GB of RAM, NFC, wireless charging, an 8-megapixel rear camera and a 1.3-megapixel front shooter.
The 8GB Nexus 7 has been scrapped, its place is taken by 16GB Nexus 7 plus a 4G HSPA+ variant.
Google has thrown it's hat in the Tablet ring, with the Nexus 10, it's built in collaboration with Samsung and boasts  a 2560 x 1600, 300ppi, 10-inch touchscreen. Google promises about 9 hours of continuous video playback and about 500 hours of standby time. It features a pair of front-facing stereo speakers on either side of the display (when it's held in a landscape orientation) plus an 8-megapixel rear camera and a 1.9-megapixel front camera for video chats. Under the hood, there's a dual-core processor, 2GB of RAM and built-in NFC. It also gets a built-in micro-HDMI port.