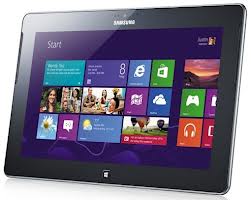 Samsung today announced the Ativ S, the world's first Windows Phone 8 smartphone and  ATIV Tab, a Windows RT powered tablet during its press conference on Wednesday at the IFA trade show in Berlin.
Samsung ATIV  sports a 10.1-inch display powered by a 1.5Ghz dual-core processor with a 1.9-megapixel front-facing camera and 5-megapixel rear camera. It also includes USB and uHDMI ports, and will come bundled with Office Home and Student 2013.  Samsung did not mention a specific release date or pricing for the ATIV Tab.
The Samsung ATIV S smartphone packs a slim design, a 4.8-inch HD Super AMOLED display, and a 1.5GHz dual-core processor plus compatibility for HSPA+42, a rear-facing 8-megapixel camera with autofocus and an LED flash, and a 1.9-megapixel front-facing camera.
"Samsung ATIV Tab: Windows RT Tablet with the optimization of PC experience and mobility
The new Samsung ATIV Tab is designed with a classy hairline finish, and delivers a full Windows 8-based PC experience with superior tablet mobility. Weighing 570g, featuring a 10.1" display, and measuring 8.9mm thick, the ATIV Tab is always ready to go. It instantly boots up without lagging and comes with Office Home and Student 2013 RT, offering the new versions of Word, Excel, PowerPoint and OneNote to help transform the way people get things done at home, school or work. These applications are fully featured with complete document compatibility, meaning people can open and create any document, make edits on it and share it with others just like we do with PCs. An 8,200 mAh battery provides enough power to allow you to work on your projects and review or share them virtually anytime and anywhere. Moreover, the ATIV Tab is compatible with a range of Windows-based PC devices and accessories, including printers, keyboards, projectors, external monitors, and other peripherals, through its USB port and uHDMI, with no need to install extra software.
Samsung ATIV S: Smartphone with maximized PC experience
Samsung ATIV S is a new smartphone for both work and entertainment featuring Windows Phone 8.. ATIV S brings a stunning hairline design and high performance with a range of content-sharing and productivity options. Its impressive 1.5GHz dual-core processor and HSPA+42 connectivity enable great browsing performance and high responsiveness even for the most demanding gaming or work applications. Users can enjoy the brand new Windows Phone 8 experience on the ATIV S's stunning 4.8" HD Super AMOLED display."  said Samsung in a press release.