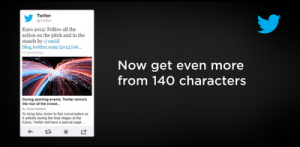 Twitter has launched today new versions of Twitter for iPhone and Twitter for Android. These new apps contain several updates including a video feature, now you can click on a tweet with a video link on your iPhone or Android device,  and have the video play directly in the tweet.
Below are the new features as described by Sung Hu Kim,  Twitter's Product Manager
"Expand Tweets
Since we introduced expanded Tweets on twitter.com, we've added several new partners like MLB and C-SPAN to a diverse and growing list of media sources. Starting today, you can also expand Tweets on Twitter for iPhone and Twitter for Android. When you tap a Tweet linking to a Kickstarter project, for example, you can play its video directly from the Tweet details view in your app. You can also read article summaries when you tap Tweets linking to sources like The Atlantic or play videos or view images when you expand Tweets linking to websites like Etsy and Vimeo. This new experience will roll out gradually to web, iPhone and Android users.
Experience events
Now you can discover the best Tweets and photos for events experiences like twitter.com/#NASCAR on your iPhone. Now, Twitter for iPhone complements any live event, whether you're watching from home or from the stands. (And remember to search #NASCAR within your app this coming Sunday, July 15, during the LENOX Industrial Tools 301 to watch the race unfold from the perspectives of drivers, celebrities, commentators and fans.)
Search simply
Speaking of search, we've made major improvements in search autocomplete so that you will see more suggestions when you search for people. As before, you can search for real names or @usernames before you complete your query.
Receive notifications
While it's always been possible to receive Tweets via SMS from your favorite Twitter accounts, these new versions of Twitter for iPhone and Twitter for Android support push notifications for Tweets. You can get notifications from people you follow whenever they send a new Tweet or Retweet; turn on push notifications for Tweets for any user via the action button on their profile, and edit these notifications in your account settings on your device. Try turning on notifications for local Twitter accounts like @abc7newsBayArea or @NYscanner to stay on top of what's happening in your city. "