We've been waiting for what seams like an age, but WWDC is finally here and boy was it worth it. Unfortunately we couldn't make it to California, so we had to take advantage of multi-monitor setups, and just stream our hearts away; Text from MacRumours, Images from gdgt, Video from TWiT.
The anticiptation around the keynote was amazing as per usual. There were a few MacBook announcements, primarily the new 13″ MacBook Pro. But we were really tuned in for the iPhone news. Here's a run-down of all the biggies…
iPhone OS 3.0 will be released on the 17th June, and will support;
Tethering, which will be available on 22 networks (not AT&T)
MMS, which is to be available on 29 networks (again, not AT&T)
New model, called iPhone 3GS, will be released two days later on the 19th June and will feature;
3mp camera with auto focus, light sensitivity, auto-exposure, white balancing
VGA video capture and editing at 30fps
Extended battery life, with 9 hours web surfing, 10 hours video, 30 hours audio, 12 hours 2G talk-time, 5 hours 3G talk-time.
Built in digital compass, which is integrated into Maps – Maps can now orientate around heading. Compass comes with developer API.
Voice Controll, this is much more than Voice Dailing. With expected commands like "Call Calvin", less expected commands like "What's playing" and down-right amazing commands like asking your phone to "Play more songs like this", which launches Genius.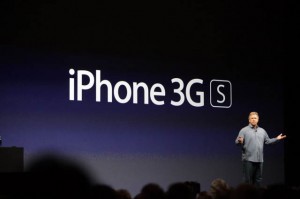 There's no front-facing camera however, so the leaked pictures all over the Internet have indeed been proven false, for now at least. Look out for iPhone 3GT.
Let's talk prices. The brand new 32GB iPhone 3GS will sell for $299, the 16GB version at a more reasonable $199 and the old 8GB iPhone 3G wukk be practically thrown away for only $99! We're looking forward to seeing international prices, and to finding out wether o2 UK will be one of the few networks to support Tethering and MMS on launch.